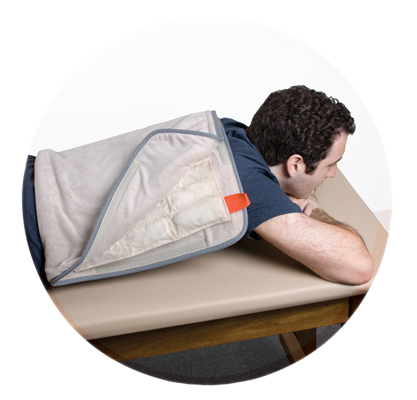 Relief Pak moist heat pack, oversize 15" x 24"
Reorder #: 448854
Manufacturer #: 11-1312
---
Details:
Relief Pak HotSpot Moist Heat Pack - oversize - 15" x 24":
The ReliefPak Moist Heat Pack is the go-to solution to ease aches and pains from arthritis, back pain, muscle strains, stiff neck, sprains, stiff joints, bruises, general soreness and spasms. Why a Moist Heat Pack and not a heating pad? Moist heat is more effective in deeper tissue heating and penetrates more than dry heat at the same temperature. Ready for use after less than an hour in either the stove, microwave or other heating unit. Ideal for use in recovery post-injury and post-workout with a material that conforms to any body part and is pliable when heated. Highly recommended by physiotherapists, physicians, chiropractors, athletic trainers and kinesiologists. Moist Heat Packs are safe for adults and children and are easy to travel with. The heat packs are Latex-free. This Heat Pack is 15" x 24" and is considered Oversized. Moist heat changes tissue temperature rapidly. Patients often report quicker relief from moist heat and moist heat has been proven to speed recovery by increasing blood flow to a specific area. The heat pack delivers up to 30 minutes of hot, moist, therapeutic relief. Once heated and ready to use, handle the pack by the corner tab. Be sure to wrap the heated pack in a towel or covering before use. Offering multiple benefits, they are ideal to help treat acute and chronic pain, relieve aches and ease soreness and stiffness. ReliefPak Moist Heat Packs are designed for use at home or in multi-user environments like clinics, spas, gyms and training rooms. Expected usage will dictate how to care and store the heat pack. If it's expected the pack is going to be used for regular or frequent treatments, it should be kept in water, either in the heating unit or in a covered pot on the stove. If the pack is expected to be idle and stored for an extended period, it should be kept moist and cold. In those instances, place the wet pack in a plastic bag, seal it and store it in the freezer.