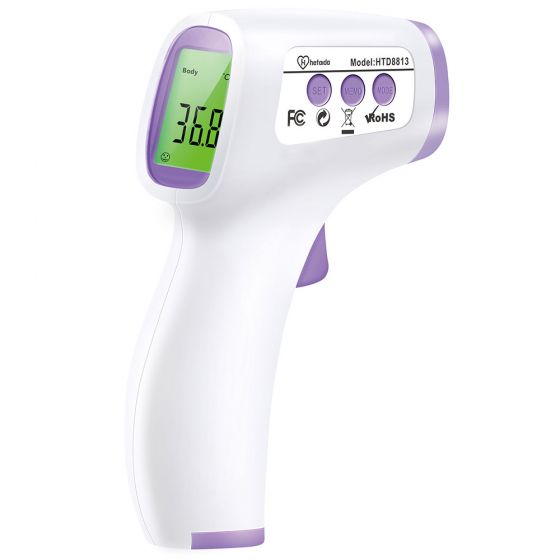 Infrared Non-Contact Thermometer
Overview: Enjoy clinical grade accuracy and speed in your home, business or school and avoid cross-infection with our FDA approved Non-Contact Infrared Thermometer from Globe Scientific.

Studies show that bacteria and viruses including COVID-19 can be transmitted via traditional medical thermometers. The Globe Scientific Non-Contact Infrared Thermometer helps eliminate this risk by measuring body temperature from a safe distance. It is a sanitary, non-invasive way to take clinically accurate readings in less than two seconds!

The Globe Scientific Non-Contact Infrared Thermometer is useful to identify infection and reduce the risk of transmission when opening businesses and institutions. At home, the Non-Contact Infrared Thermometer is an advanced way to detect fever and monitor your family members' medical condition for early detection and intervention of disease. It provides a quick, easy and practical method of temperature determination. It is especially useful for infants, young children and elders for whom traditional methods may be difficult to perform.

The high-precision sensors in our Non-Contact Infrared Thermometer provide extreme accuracy of ±0.2ºC. A simple press and hold of the MODE button toggles the unit between Fahrenheit and Celsius scales. A bright, color-coded display clearly provides instant visual feedback for normal, slightly high, and high body temperatures even in dimly lit areas. The internal memory stores up to 50 readings for easy recall. The automatic power-off function extends battery life. The unit is lightweight and portable enough to take anywhere.

Reorder #: 773395
Manufacturer #: THERM-NC
---
Details:
Features:
•Highly Accurate
•Suitable for adult and pediatric use
•Safe, comfortable, non-contact and non-invasive method for measuring body temperature
•Clinically verified and FDA approved
•Non-contact measuring distance of .4" – 2" (1 – 5cm)
•Color-coded display provides instant visual feedback for normal, slightly high, and high body temperature
•Bright LCD displays clearly in any environment
•Immediate feedback in less than 2 seconds
•Easily change from Fahrenheit to Celsius scale
•Internal memory stores up to 50 readings for easy recall
•Safe — Mercury free with no danger of breaking glass
•Alleviates the inconvenience and discomfort associated with traditional methods of temperature taking
•Simple to use one button operation
•Automatic power-off function
•Light-weight ergonomic design
•Versatile — can also be used to check the temperature of environment, objects or liquids
•Battery status indicator