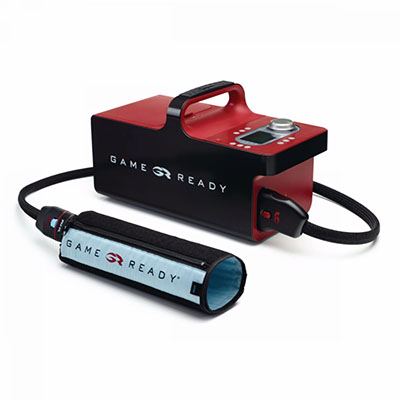 Game Ready Control Unit - GRPro 2.1 - Includes AC Adapter and 6' Connector Hose:
Overview: Dimensions: 16.25" x 9.25" x 7.75"
Reorder #: 154029
Manufacturer #: GRPro 2.1
---
Details:
The Game Ready Control Unit is the key component in an active compression system designed to deliver cold therapy that works faster, penetrates deeper and lasts longer than other treatment modalities. The system, in conjunction with cold compression wraps (available separately), uniquely integrates active compression and cold therapies to accelerate natural healing. Going beyond static cold and compression applications, Game Ready proactively aids lymphatic function, encourages cellular oxygen supply and stimulates tissue repair. Included in the box are the Control Unit, Power Cord, AC Adapter, 6-ft. Connector Hose and a User Manual. Ergonomic compression wraps for all body parts are sold separately. Ideal for treatment of post-surgical and acute injuries to reduce edema swelling and pain. Compression wraps incorporate an active temperature exchange that maintains cool temperature and a pneumatic compression. It's recommended that patients use Game Ready cold therapy at least 4 times a day for approximately 30 minutes each session. Studies suggest the greatest benefits from cold therapy are in the 40-60 degreesF temperature range.